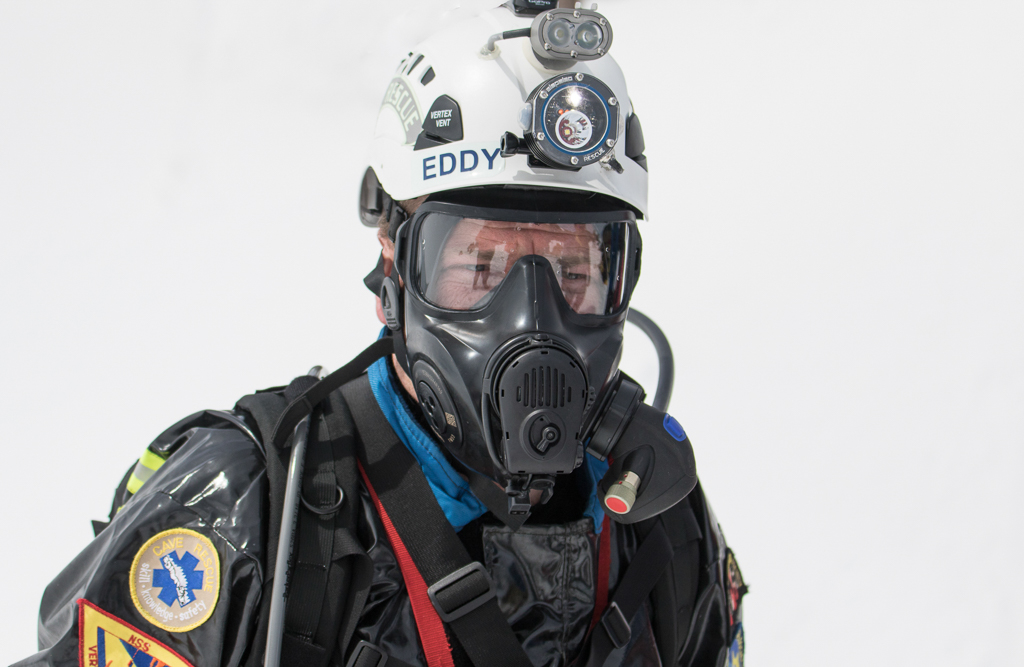 Lead Tactical Instructor
Eddy Cartaya's passion for military and law enforcement special operations, and extreme technical rope operations has run concurrently since 1987. With live mission operational experience and teaching experience in a multitude of tactical, SAR, and rope industries, Eddy has been able to integrate these skills in a unique way with tactical and "light and fast" high consequence vertical situational responses.
Twenty Five years tactical law enforcement experience. Federal Law Enforcement Tactical Officer since 2000. 10 years with National Park Service (NPS) law enforcement and 10 years US Forest Service (USFS) law enforcement. Former Savannah Georgia Police Department, 5 years as Field training officer, ERT (SWAT), and firearms instructors. ERT also served as high angle response team. Have served on law enforcement special operations teams since 1995. Team leader for the NPS tactical tracking team in North Carolina 2005 – 2010.
Eddy also brings over 30 years of command and control / ICS career experience, starting with small unit leadership at West Point, through tactical teams in Savannah Georgia, National Park Service, and US Forest Service teams. Federally carded planning section chief and operations section chief (all hazard) and graduate of multiple military and national SAR academy's in ground search operations management.
Over 27 years technical search and rescue, specializing in mountain, cave, and tree. Leader, author, and teacher nationwide in Incident Command System utilization and CUSTOMIZATION for specific types of missions, be they mountain, cave, water, tactical, military, etc., as every venue has its needs for ICS specificity. SAR mission manager for innumerable missions since 1997 for agencies nationwide. Eddy also coordinates the Glacier Cave Explorers group of the National Speleological Society, that has explored and developed rescue pre-plans for the glacier cave systems of the Pacific Northwest and Mt Meager, Canada, leading large scale expeditions often involving over 100 personnel.
Abet accredited B.S. Degree in aerospace engineering, United States Military Academy at West Point 1990.
Graduate Sapper School (Sapper Leader Course) 1989.
International Technical Rescue Association (ITRA) Rope Level 3 technician and Tactical qualified instructor (completed first instructor assessment in North America)
Mountain Rescue Association (MRA) / Portland Mountain Rescue (PMR) Rescue leader 2010 to current.
Deschutes County MRU Rescue leader, and cave team coordinator for 9 years (2010-2019)
National Cave Rescue Commission (NCRC) Pacific Northwest Regional Coordinator & Glacier Cave Explorers coordinator
NCRC Instructor certified
NCRC Small Party Assisted Rescue (SPAR) certified (1 of only 8 in US)
NCRC level 3 technician certified (1 of 9 in the US)
NCRC Certification Coordinator
Current Wilderness EMT
Former National Park Service tactical team leader in North Carolina (NCTTT) (2005-2010)
Savannah Police Department (SPD) Emergency Response Team (ERT) / high angle interventions 1993-1997)
US Army officer, 1986-1993, Armor, Korea and Ft Stewart, GA
National Park Service Basic Technical Rescue Training (BTRT) instructor / coordinator / tree and SRT instructor (since 2008)
Federal Firearms instructor (since 2004).
Federal Field Training Officer (since 2006)
Federal Use of Force Instructor (NLTA / Reality Based Training / Use of force review panels) since 2008.
Federal Survival Shooting Training Program (SSTP) instructor (since 2006).
Federal helicopter hoist qualified
Federal external sling load qualified
International Society of Arboriculture Certified
Federal chainsaw class B feller
Tactical Tracking Operations School (TTOS) instructor for 10 years
Created, developed, and ran the North Carolina winter alpine SAR / Winter mountain LE operations and mountaineering program 2011-2016 for North Carolina Emergency Management. Taught numerous federal, state, local and joint task force law enforcement agencies in tactical tracking, crime scene reconstruction, and mountain operations.
Law Enforcement Mountain Operations School graduate (LEMOS)
Numerous Rappel master courses through military, private, and Florida SWAT Association
Waterborne Operations School, Key West, Florida
Georgia Fire Academy (GPSTC-Forsyth) state High Angle Rescue Technician Certified
U.S. Army Sapper (explosives, vertical mobility, small unit tactics, )
Former Chattanooga Hamilton County Rescue Cave Cliff Rescue Service (1995-2005)
Linville Central Rescue Squad / Grandfather Mountain North Carolina 2005-2011 (ice, rock, bridge rescue)
 North Carolina State High Angle Rescue Technician Certified
Cave rescue delegate and technical presenter at International Commission of Alpine Rescue (ICAR) / head of international cave rescue work group
Presenter at International Technical Rescue Symposium (ITRS)
Technical presenter and NCRC delegate at European Cave Rescue Association
Technical presenter at multiple Mountain Rescue Association (MRA) annual conferences.
Co-author of SPAR: Small Party Self Rescue Techniques (published 2019)
Co-author of Cave Rescue Management Using ICS Filed Guide